Mr. Anil Kumar Gupta
Mr. Anil Kumar Gupta is a scholar and a seasoned professional with experience spanning across three decades. Having completed mechanical engineering from one of India's most prestigious engineering school with highest possible marks, plush engineering companies opened its doors wide open for Mr. Gupta. But it was politics and administration which satisfied his academic passion and to learn the nuances of the subject, he decided to take a bold step and enrolled for bachelors in political science. This turned around the tables for Mr. Gupta as he realised that this is the ocean he wants to dive deep into. Since then, there has no looking back for him. Bachelors turned into masters, masters into deep research of the subject and this coupled with an experience of three decades has made Mr. Gupta, a name to reckon with in the subject of politics. He has swum the subject from length to length and breadth to breadth. Governments have come and governments
have gone but there is no detail which is not known by Anil Sir, so much so that he knows the exact date, exact place and exact event associated with every political activity. Since political science is said to be the twin sister of law, it becomes imperative to have a good understanding of the subject. Moreover, an understanding of the political science lays down the foundation for the better understanding of law and makes the student aware of the state of affairs in the country. Mr. Gupta is known for his excellent student-friendly approach to the subject which makes it extremely easy to understand and grasp. He starts with the very basic and teaches about various organs of government, the concept of separation of powers, how government works, how elections are held, the concept of democracy, procedure of judicial appointments, important constitutional bodies etc. Such is the charisma of the sir that political science classes are always bustling with students and their inquisitive questions. Even after the classes, Sir is found busy with students who always want to learn more. Students say that political science classes make them feel empowered and responsible. We owe our grand success in law entrance exams to Gupta Sir who holds the key to full marks in political science section!
Miss. Sonal Gupta
Currently the CEO of Maansarovar Law Centre & Sonal Gupta Judicial, Sonal Gupta was a student who turned into a successful lawyer and mentor. She was the top-ranker throughout her law school and is now responsible for shaping the career of more than 5000 students. In her career, Sonal has been one of the most revered names in legal education and has acquired celebrity status within a short span of 5 years hence creating a monopoly status of Maansarovar in DU LL.B & LL.M. They say that passion keeps you hungry all your life and that is exactly the case with Sonal. Even after acquiring endless accomplishments in a very short span of time, Sonal aspires to do more. She envisions revamping the legal education system in India by opening a law university where learning is a fine blend of theory and practice and where she can reach over 1 million students. She plans to become one of the most distinguished legal mentors in the country by teaching her students with a novel approach.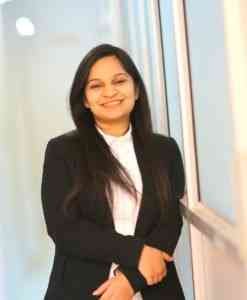 She wants to simplify the law and make it a 'Citizen's Heaven' rather than a 'Lawyers Paradise'. Her motto behind becoming a lawyer was to ensure that no vulnerable person remains vulnerable to the law and to spread awareness about basic laws at a mass level for the upliftment of women, children, elderly, workers, underprivileged, disabled, transgenders, and other vulnerable groups. She has plans to enter the Indian political system soon! Apart from work, Sonal loves to read non-fiction novels, explore lesser-known countries, watch documentaries. She is also learning to play the piano currently.
Miss. Snigdha Gupta
Miss Snigdha Gupta is a multi-talented much sought-after maths and reasoning expert. Having secured All-India Rank 23 in one of the most coveted exam in India, SSC (CGL) 2013, Miss Gupta is an Income Tax Inspector in New Delhi. A national chess-level champion and an unbeaten chess winner in Delhi University for 3 consecutive years, having lifted 15 trophies, strategy has always been her forte. It is her strategic and technical bent of mind which has helped her develop strategic, logical, conceptual, formula-less maths. Maths without formulae sounds sort of unbelievable but here lies the mastery of our maths wizard. In her words, "The problem with maths is the phobia which the students develop without any reason and which inhibits their understanding of the subject. In reality, maths is totally concept based subject and once the concept is understood, scoring cent percent marks becomes extremely easy".
Her expertise at maths coupled with psychology background has helped her develop a strong hold upon the subject of logical reasoning as well. According to her, reasoning is all about logic and common sense applied smartly whereas students end up wasting their time in learning illogical, lengthy formulae and applying them mindlessly. The short logical tricks devised by her enable the students to solve a question in 10-15 seconds flat, giving them an edge in competitive exams wherein time is the essence of the success. It is her novel and winning approach to the subjects which helps students secure top positions in various exams.
Such are the reviews about the Ma'am that it seems surreal that she has garnered so much affection from students in such a short span. While some students have found a friend in her, others an elder sister and some even a daughter. It might seem unbelievable but her class room has students from age group of 18-80!! Her message box, e-mail and call logs are always overflowing with lovely messages of students. Despite her busy schedule, she always takes out time to reply to each message as she sincerely believes that it is her students that have made her and Maansarovar totally belongs to them. She has been described as 'Ray of Sunshine', 'Breath of fresh air', 'Miss Maansarovar' and several other beautiful sobriquets! Sonal Ma'am is really thankful to each and every student for appreciation, encouragement and warmth she has received from them as it motivates her to work harder and deliver better. Lastly, she believes that Maansarovar is one big family and thus, personal attention is given to each student and it is ensured that they excel in a friendly and healthy environment.
Mr. Varun Midha
Mr. Varun Midha is the logistical force behind the Maansarovar Law Centre. A young charismatic property expert, he is the reason why Maansarovar has been able to function like a well oiled machine producing top lawyers year after year. With his technical acumen, he has been able to integrate diverse departments of the institution bringing them together into a harmonious whole. His efforts have brought about a perfect co-ordination between different centres and has digitalised Maansarovar. He deserves an applause for a perfect sync between faculty, students, staff and management and converging them all into the comman goal of success at law! He has embarked upon the journey to take Maansarovar to its actual place – to the top!